Profile

Program

Requirement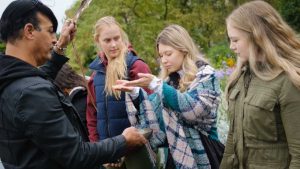 Located in Toronto, Ontario, Canada, the University of Guelph-Humber is unique among Ontario universities. We are a collaboration between the University of Guelph and Humber College Institute of Technology & Advanced Learning (Humber). Our programs draw from the expertise and knowledge of both renowned institutions. In each of the University's seven programs, you earn an honours degree from the University of Guelph and a college diploma from Humber, concurrently, in four years of full-time study in one location.What makes us unique, and what students value most, is the integration of theory and practical education in each of our programs. At the University of Guelph-Humber, you study a focused curriculum combined with hands-on workplace experience, preparing you for success in your career, professional school and/or graduate program.
Areas of Expertise
We offer seven programs: Business, Community Social Services, Early Childhood Studies, Justice Studies, Kinesiology, Media and Communication Studies, and Psychology.The University of Guelph-Humber combines focused academic study with hands-on experience to prepare students for the workplace or further education: workplace experience is part of every program. Our student population is 4,900 and our average class size is only 49 students!
Business Bachelor; Honours
Community Social Services Bachelor; Honours
Early Childhood Studies Bachelor; Honours
Justice Studies Bachelor; Honours
Kinesiology Bachelor; Honours
Media and Communication Studies Bachelor; Honours
Psychology Bachelor; Honours
Requirements for Canadian Students
Ontario high school applicants should be completing or have completed an Ontario Secondary School Diploma with six 4U/M courses (including subject requirements). Minimum admission averages range from 75% to 80%. For applicants with an admission average of 70% to 74.9%, it is strongly recommended that you submit a Student Profile to be considered for admission.
Canadian high school applicants from outside of Ontario should be completing or have completed a high school diploma with specific provincial admission and subject requirements, which can be found at  All applicants must meet English language requirements. Possession of minimum requirements does not guarantee admission. The deadline for all Canadian high school students to apply is January 15, 2021.* All other applicants, such as transfer students and mature students should refer to to learn about admission requirements.
*The OUAC application deadline of January 15, 2021 is for applicants to be considered for early offers and throughout all rounds of the admission cycle. Applications will remain open after the January 15, 2021 deadline, however, can close any time after that date. Please refer to the OUAC and our website to view which programs are still accepting applications.
Requirements for International Students
Please visit the University of Guelph-Humber website,  for full details for International Applicants.
Procedure for Canadian Students
Apply to the University of Guelph-Humber through the Ontario Universities' Application Centre at . Program codes are listed under the University of Guelph.
Procedure for International Students
As an international applicant, you have a few choices for how to apply. Visit our