Profile

Program

Requirement
The Faculty of Medicine at The University of Calgary is a dynamic teaching and research Faculty of growing national and international stature. Despite our young age (we admitted our first students in 1970), the Faculty is widely recognized for the quality of our research as well as for our medical and medical science education. Our undergraduate program remains one of only two medical Faculties in North America offering a three year degree program.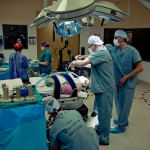 The pattern of education in most medical schools is changing rapidly in response to trends in health care, new concepts in learning and pressures from the community and the profession. Our medical education and evaluation methods emphasize a health-team approach, the development of problem solving skills and life-long learning tailored to suit the individual student's talents and interests. A particularly innovative feature of our medical school is the presentation of the curriculum as a series of 120 clinical problems, reflecting the way patients present to their physician.
Areas of Expertise
The Faculty of Medicine has a strong commitment to excellence in basic, clinical, health service and education research. Our program operates on the basis of interdisciplinary research groups, an approach which has been successful both for biomedical education and research. The research group concept allows professors who would normally work in different departments to collaborate for the benefit of students and the advancement of research and development. For example, the Joint Injury and Arthritis Diseases Research Group involves rheumatologists, engineers, molecular biologists, orthopaedic surgeons and epidemiologists working to understand the cause, develop treatments and hopefully prevention strategies and cures for such diseases as lupus and rheumatoid and osteoarthritis. There are presently 17 research groups in the Faculty which provide a unique training and mentoring environment for students, fellows and faculty.
Adult Neurology (Residency Training) Not Applicable
Anatomic Pathology (Residency Training) Not Applicable
Anesthesia (Residency Training) Not Applicable
Biochemistry and Molecular Biology Doctorate
Biochemistry and Molecular Biology Master
Biomedical Technology Master
Cardiac Surgery (Residency Training) Not Applicable
Cardiovascular and Respiratory Sciences Doctorate
Cardiovascular and Respiratory Sciences Master
Community Health Sciences Doctorate
Community Health Sciences Master
Community Medicine (Residency Training) Not Applicable
Diagnositic Imaging (Residency Training) Not Applicable
Emergency Medicine (Residency Training) Not Applicable
Family Medicine (Residency Training) Not Applicable
Family Medicine - Rural (Residency Training) Not Applicable
Gastrointestinal Sciences, Immunology, and Microbiology and Infectious Diseases Doctorate
Gastrointestinal Sciences, Immunology, and Microbiology and Infectious Diseases Master
General Surgery (Residency Training) Not Applicable
Internal Medicine (Residency Training) Not Applicable
Leaders in Medicine (MD/PhD) Doctorate
Medical Genetics (Residency Training) Not Applicable
Medical Science Doctorate
Medical Science Master
Medicine (MD) Doctorate
Neuropathology (Residency Training) Not Applicable
Neuroscience Doctorate
Neuroscience Master
Neurosurgery (Residency Training) Not Applicable
Obstetrics and Gynecology (Residency Training) Not Applicable
Ophthalmology (Residency Training) Not Applicable
Orthopaedic Surgery (Residency Training) Not Applicable
Otolaryngology (Residency Training) Not Applicable
Paediatric Neurology (Residency Training) Not Applicable
Paediatrics (Residency Training) Not Applicable
Pathologists' Assistant Master
Physical Medicine and Rehab (Residency Training) Not Applicable
Plastic Surgery (Residency Training) Not Applicable
Psychiatry (Residency Training) Not Applicable
Radiation Oncology (Residency Training) Not Applicable
Academic Year
Type of System Semester
Entrance Dates September
Language of Instruction English