Profile

Program

Requirement
The Faculty of Management at Royal Roads University offers programs at both a graduate and undergraduate level.
On Campus Housing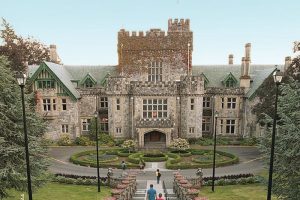 Royal Roads University offers convenient on-campus housing for students while on short-term residency. Choose from a variety of private single and double rooms or dormitory-style suites with shared washrooms. Located in the heart of the Colwood campus, accommodations are located in the Millward and Nixon buildings. Residence lounges include fridges, microwaves, coffee makers, toasters, kettles and cutlery. The nearby Habitat Café offers a variety of meals for purchase seven days a week. Graduate residence costs vary according to the length of residency. Rates are subject to change.Off Campus Housing
Royal Roads University does not offer long-term on-campus accommodations for students. If your program is delivered full-time on campus, you will need to find off campus housing for the duration of your studies. To support your transition to Victoria, you may request Temporary Campus Accommodations for a stay of up to two weeks. Colwood and Langford are the closest municipalities to Royal Roads and will be the most convenient areas to live while you study. We recommend that you search for accommodation close to bus routes numbered 39, 50, 51, or 52 which stop on or close to campus.Incoming Students
As new international students, you will likely have additional questions about transitioning to RRU and life in Canada. Our Student Engagement Team has designed an informative and interactive orientation to meet the unique needs of our international students. We have a wealth of international experience, we have been international students ourselves and we understand the special needs of our international students. International Student Orientation provides an opportunity for you to meet RRU staff and current students who will help you settle into life at RRU and to meet new friends who will be sharing this learning journey with you. The following topics will be covered: Settlement Services, Health Insurance, Counselling Services, Local Laws and Personal Safety, Immigration, Indigenous Welcome and Historical Context, Working in Canada, Getting Involved, Shopping and Saving, Tips for Success in the Canadian Classroom and Crossing Cultures.
Master of Business Administration in Executive Management Master; Online
Academic Year
Type of System Semester
Entrance Dates September
Language of Instruction English