Profile

Program

Requirement
The School of Medicine offers a four-year program leading to the degree of Doctor of Medicine. One hundred students are admitted annually into the first year of the program and are selected on the basis of a strong academic record and the assessment of personal characteristics considered to be most appropriate for the study of medicine at Queen's University and the subsequent practice of medicine. The goal of the medical curriculum is to produce physicians who have a wide understanding of the content and context of medicine and the knowledge, skills, and attitudes to enter into any postgraduate training program. The curriculum will foster the development of life long learning skills necessary for effective practice.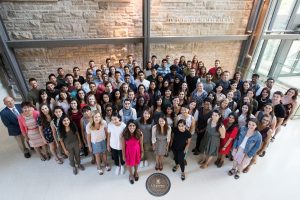 The four year Undergraduate Medical Program at Queen's University is structured in sequential terms which will allow students to progress from scientific foundational knowledge through to clinical foundations of the human systems and finally, in clinical engagement during a two year clinical rotation series; including electives for students to explore areas of interest. Our medical program is well known for the opportunities it provides; for close personal interaction between students and faculty members; for students to obtain relevant extensive hands-on clinical experience under supervision, particularly in an ambulatory setting. Our medical culture encourages participation and offers opportunities for students to engage in the administration development and evaluation of our medical curriculum and our governance structures. Our graduates are highly successful in obtaining postgraduate training sites and are known to be committed and enthusiastic citizens of their profession and their communities.
Areas of Expertise
One of the best ways to explore the history of Queen's University is through the campus itself. As Queen's has grown and changed, the campus has expanded, and new types of buildings have been constructed. From the oldest limestone hall to the brand new modern structures, every building has a story to tell - and not merely when they were built, or what departments have resided there. Many of the buildings at Queen's are named for important figures in Queen's history, and thus serve as a reminder of some of the greatest contributors to this University.
Anatomical Sciences (MSc) Master
Biochemistry and Cell Biology (MSc) Master
Biochemistry and Cell Biology (PhD) Doctorate
Collaborative Graduate Program in Cancer Research (MSc) Master
Collaborative Graduate Program in Cancer Research (PhD) Doctorate
Combined Biomedical & Molecular Sciences (BScH/MSc) Master; Honours
Experimental Medicine (MSc) Master
Experimental Medicine (PhD) Doctorate
Microbes, Immunity and Inflammation (MSc) Master
Microbes, Immunity and Inflammation (PhD) Doctorate
Pharmaceutical & Healthcare Management and Innovation (G.Dip PHMI) Post-diploma
Reproduction and Developmental Sciences (MSc) Master
Reproduction and Developmental Sciences (PhD) Doctorate
Therapeutics, Drug Development, and Human Toxicology (MSc) Master
Therapeutics, Drug Development, and Human Toxicology (PhD) Doctorate
Undergraduate Medical Education (MD) Bachelor; Honours
Requirements for International Students
Applications for the Queen's School of Medicine are made through the Ontario Medical Schools' Application Service (OMSAS). Please visit the OMSAS site for information regarding the application process. All documents and application materials must be submitted through the application centre. Candidates will be assessed solely based on materials submitted to OMSAS by the application deadlines. Addendums or supplemental materials sent directly to the School of Medicine will be destroyed.