Profile

Program

Requirement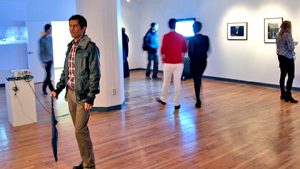 The Ontario College of Art & Design (OCAD) is Canada's largest university of art and design with a specialization in creativity and innovation. Established in 1876 by the Ontario Society of Artists, the College was originally known as the Ontario School of Art and was incorporated as the Ontario College of Art in 1912. The College was the first of its kind in Canada to be dedicated exclusively to the education of professional artists in fine and commercial art. In 1996, it was renamed the Ontario College of Art & Design. Today, OCAD is the third largest of the approximately 40 professional art and design universities in North America.
Throughout its distinguished history, OCAD has been shaped by many of Canada's leading figures in art and design. One of its earlier principals, celebrated painter George A. Reid, designed its first purpose built home on Grange Park, a beautiful Georgian building, which remains to this day part of the College campus. Arthur Lismer and J.E.H. MacDonald, of the Group of Seven, were once Vice Principal and Principal, respectively. Many other famous Canadian artists have taught or studied at OCAD, including Fred Hagan, Jock Macdonald, Michael Snow, Graham Coughtry, Gordon Rainer, and, more recently, Colette Whiten, Joanne Tod, and Barbara Astman, and designers such as Clair Stewart, Carl Dair, Allan Fleming, Theo Dimson, Ken Rodmell, and, more recently, Debbie Adams, Helen Kerr, and Scot Laughton.
Areas of Expertise
In 2002, OCAD received official status to confer the degrees of Bachelor of Fine Arts and Bachelor of Design via the new Ontario College of Art & Design Act passed by the Government of Ontario. Its university status has led to a number of significant changes such as a renewed curriculum, a new professorial structure for faculty, a research mandate, a new system of governance, and preliminary groundwork for future graduate programs.
The changes now make OCAD even more distinct in Ontario's educational sector. Students acquire critical thinking and writing skills, as they do in a liberal arts program at a traditional university. Unique to OCAD, however, this liberal studies education is integrated with a studio program that is more comprehensive than any other fine arts program in Canada. As well, the largest faculty of its kind in Canada is comprised of many leading art or design practitioners and scholars. The result of OCAD's educational experience is that students gain an in depth knowledge of the history and theory of visual culture, as well as the analytical skills to execute powerful ideas within the studio context.
Advertising Bachelor
Contemporary Art, Design and New Media Art Histories (MA) Master
Creative Writing Bachelor
Criticism & Curatorial Practice Bachelor
Criticism and Curatorial Practice (MFA) Master
Cross-Disciplinary Art: Life Studies Bachelor
Cross-Disciplinary Art: Publications Bachelor
Design for Health (MDes) Master
Digital Futures Bachelor
Digital Futures (MA, MDes, MFA) Master
Drawing & Painting Bachelor
Drawing & Painting: Digital Painting and Expanded Animation Bachelor
Environmental Design Bachelor
Environmental Design: Interior Design Specialization Bachelor
Graphic Design Bachelor
Illustration Bachelor
Inclusive Design (MDes) Master
Indigenous Visual Culture Bachelor
Industrial Design Bachelor
Integrated Media Bachelor
Integrated Media: Digital Painting and Expanded Animation Bachelor
Interdisciplinary Master's In Art, Media and Design (MA, MDes and MFA) Master
Material Art and Design - Jewellery/Metalsmithing Bachelor
Material Art and Design - Textiles Bachelor
Photography Bachelor
Printmaking & Publications Bachelor
Sculpture/Installation Bachelor
Strategic Foresight and Innovation (MDes) Master
Visual and Critical Studies Bachelor; Honours
Requirements for International Students
Please review the information on the Web site.
Procedure for International Students
Please review the information on the Web site.