Profile

Program

Requirement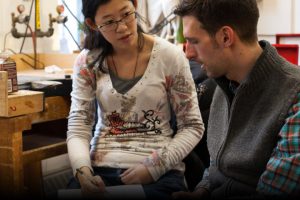 Located in restored historical buildings in the downtown waterfront area of Halifax, Nova Scotia, the Nova Scotia College of Art and Design (NSCAD) is internationally recognized. A NSCAD education is distinguished by attention to diverse academic and practical concerns in the studio environment.
Areas of Expertise
The college fosters close creative relationships among artists, craftspersons, designers, educators, academics and the public at large, and assumes leadership in the regional, national, and international cultural community. Ample studio space accommodates work in all the principal areas of instruction and is accessible, in most areas, on a 24-hour basis.
On Campus Housing
NSCAD does not operate a residence. Residence space, however, may be available to NSCAD students through Dalhousie University. If you are interested, apply early. Applications can be downloaded from their website at www.housing.dal.ca.Off Campus Housing
NSCAD University does not maintain a residence, and students are therefore responsible for making their own accommodation arrangements in the Halifax/Dartmouth area. An arrangement with Saint Mary's University gives equal priority to NSCAD students for residence spaces at SMU (see below for more details). Many students rent furnished rooms from private owners or share an apartment, flat or house with other students. As new students get to know other students at the university, opportunities for less expensive shared rentals begin to occur.Incoming Students
Foundation program: designed to develop knowledge of fine arts, crafts and design, and to establish groundwork for subsequent specialization, starts with orientation week. English tutors and study skills workshops are available. The College also employs a Learning Disabilities Resources Facilitator.
Career Planning
Campus Worklink Services available to students.
Clubs
There are several special-interest clubs established with the support of the Students Union. Students are encouraged to start new clubs as well.
Information Technology
Multimedia Centre houses computer and audio-visual facilities, and supports various teaching programs. Computer software supports digital video editing, graphic design, page layout, image making, animation, interactive programming, multimedia, and word processing. Audio-visual equipment includes slide projectors, and portable audio and video recorders. The photography department houses both traditional facilities and advanced workstations in innovative digital technology. Internet access is provided in the library and through other arrangements.
Cultural
The College's Anna Leonowens Gallery presents work to the public relating to activities within the college. Visiting Artists Program and the Public Lecture Series allow for many visual arts professionals from around the world to visit the campus for lectures and workshops.
Special Services
Counselling and Psychological Services, Health Services, and English tutoring and services for students with learning disabilities. Services for Students with Disabilities, Black Student Advisors, and Native Student Advisors are also available to NSCAD students.
International Involvement
Students are eligible for exchange programs with more than 70 institutions in 15 countries, including institutions in Portugal, England, Australia, Scotland, France, Germany, Ireland, Holland, Mexico, the Czech Republic, Ghana, Japan, and the United States of America.
Campus Tour
Tours are arranged on an individual basis during regular semesters through the Admissions office.
Art History Bachelor
Ceramics Bachelor
Expanded Media Bachelor
Film Bachelor
Fine Art Bachelor
Interdisciplinary Design Bachelor
Jewellery Design and Metalsmithing Bachelor
Photography Bachelor
Textiles/Fashion Bachelor
Requirements
Please view 'Requirements for Canadian Students'.
Procedure for International Students
Applicants whose first language is not English must submit their results from a test of English as a Second Language. Any documents that are not in English must be officially translated to English.