Profile

Program

Requirement
A focus on teaching, smaller classes and student support means you belong at Mount Royal University.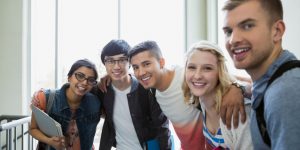 At MRU, some 14,000 undergraduate students pursue a variety of bachelor's degree, diploma and certificate programs. While the programs may have changed over more than 100 years, Mount Royal continues to focus on quality teaching and an exemplary undergraduate experience.
Mount Royal delivers 12 bachelor's degrees with 33 majors (including new business and science degrees) to help you explore your specific area of interest combined with the help of unparalleled faculty, campus life and student support. At Mount Royal, professors know a student's name and engage with students through hands-on learning and with research opportunities. Mount Royal students are prepared for the workforce or to further their studies at professional or graduate school. MRU provides practical learning with a particular focus on work placements, practicums and co-op education.
Outside the classroom, Mount Royal offers the support students need to succeed. Student Learning Services helps develop superior learning skills, through mentors, a peer tutor program, writing and learning support workshops and tools for studying effectively. As students get further into their degree, Career Services assists in turning scholastic success into a job.
Located in Calgary, Alberta, Canada, Mount Royal reflects its dynamic host city by being innovative, friendly and entrepreneurial. Calgary is consistently ranked as one of the top cities to live in the world. The university's park-like campus offers modern facilities and residences, an outstanding recreation centre, the amazing Taylor Centre for the Performing Arts and the Riddell Library and Learning Centre. Centrally located, the university has easy access to world-class outdoor recreation in the Rocky Mountains.
To ensure the richest education possible, Mount Royal University has built an international education program that is widely regarded as leading edge and includes exchanges and field schools abroad.
Success on campus also includes mental and physical health. Find a dentist, doctor or other health services on campus. Or get moving in our full-service Recreation Centre, including fitness, aquatic and climbing centres, squash courts, gyms and a wide range of classes.
Areas of Expertise
Mount Royal's instructionally based programs are current, relevant and evolving. Mount Royal offers a highly sought after Bachelor of Nursing degree as well as degree programs in areas not common at most institutions such as Midwifery, Interior Design, Criminal Justice, Communication Studies in four majors (Broadcast Media Studies, Information Design, Journalism and Public Relations) and Child Studies to name just a few.
Anthropology Bachelor
Athletic Therapy Bachelor
Aviation Diploma
Biology Bachelor
Broadcast Media Studies Bachelor
Chemistry Bachelor
Child and Youth Care Counsellor Bachelor
Early Learning and Child Care Bachelor
Ecotourism and Outdoor Leadership Bachelor
Education - Elementary Bachelor
English Bachelor
Environmental Science Bachelor
History Bachelor
Interior Design Bachelor
Nursing Bachelor
Physical Literacy Bachelor
Policy Studies Bachelor
Psychology Bachelor
Social Work Diploma
Sport and Recreation Management Bachelor
Requirements for International Students
Mount Royal has a general admission policy that applies to most undergraduate (credit) programs. Each program also has specific admission requirements. Please ensure you are familiar with both the general and specific admission requirements for the program(s) you select. In addition, all applicants must demonstrate English Language Proficiency for the purpose of admission if their first language (learned and understood) is not English.Admission to Mount Royal is competitive, meaning students with higher grades will be considered first. Grade requirements vary from program to program. To help you determine if your grades are competitive, we have provided the Admission Requirements chart (PDF) that lists the Competitive Average Range for each program. This range is based on the competitive admission average for the previous year and should serve as a guideline only. Some programs may also require additional criteria such as an interview or a portfolio.
General admission requirements
Mount Royal has a general admission policy that must be met to be considered for admission into our academic programs.
Program-specific admission requirements
Applicants must meet both the competitive admission average for the specific program and present specific required courses with the minimum required grades. In addition to meeting general admission requirements, admission to each program requires specific high school courses (or equivalents).
Procedure for International Students
Visit our Apply Now page and click on Apply Alberta.International students applying from overseas can only apply for the Fall Semester. International students applying from Canada can apply for either the fall or winter semesters.
Fall Semester
Apply early! Early admission is open from October 1 to February 1. We encourage application during this period as some programs have a deadline of February 1 or fill up early. The application deadline for International applicants is April 1.Applicants must submit all supporting documents including final, official high school and post-secondary transcripts and proof of English Language Proficiency if your first language (learned and understood) is not English by May 1 to be considered for admission for the Fall Semester. If you are currently in high school or post-secondary studies and your final, official transcript will not be available by May 1, provide transcripts with interim grades so that you can be considered for conditional admission. This is to allow time to process your application and obtain a VISA/study permit. If you are granted a (conditional) offer of admission, your deadline for final documents may be extended.United States: Citizens of the United States may apply and be considered under the standard dates and deadlines rather than the International deadlines.