Profile

Program

Requirement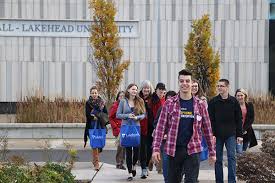 As part of a young and growing campus, you will play an important role in shaping student life.Less than a 90-minute drive from Toronto, you will benefit from the full Lakehead experience at the Orillia Campus, located within the heart of Ontario's Lake Country. With a welcoming atmosphere, innovative programs and a small, friendly community, it is one of the greatest places to learn in the country.
Walking through Simcoe Hall or the Heritage site, you will know your classmates and become part of something truly different. You will be able to make yourself at home in a state-of-the-art campus.
Areas of Expertise
Lakehead University is a fully comprehensive university with over 65 programs to choose from. Whether you are interested in the arts, sciences or professional programs such as Business, Engineering, Forestry or Nursing, we have it all.
Lakehead offers full-time and part-time studies leading to degrees, diplomas and certificates. Whether you decide to study on campus, online or a combination of both, you will be surrounded by supportive and engaging faculty that will ensure you are well prepared to make an impact on the world.
 
Anthropology Bachelor; Honours
Applied Life Sciences Bachelor; Honours
Business Bachelor; Honours
Computer Science Bachelor; Honours
Concurrent Education Bachelor; Honours
Criminology Bachelor; Honours
Education - Consecutive Bachelor; Honours
English Bachelor; Honours
Environmental Sustainability Bachelor; Honours
Environmental Sustainability (Co-op) Bachelor; Co-op; Honours
General Science Bachelor
Geography Bachelor; Honours
History Bachelor; Honours
Interdisciplinary Studies Bachelor; Honours
Media, Film and Communications Bachelor; Honours
Political Science Bachelor; Honours
Social Work Bachelor; Honours
Sociology Bachelor; Honours
Requirements for International Students
Unless otherwise noted, all Lakehead University programs require an Ontario Secondary School Diploma; a minimum of 6 Grade 12 U or M courses, including program-specific prerequisite courses; and a minimum overall 70% average based on the best 6 Grade 12 U or M courses.For high school prerequisite requirements by Canadian province, visit admissions.lakeheadu.ca.If your first language is not English, and you cannot verify having recently studied in an English language school system for more than three full years of full-time study, you will be required to present proof of English language proficiency. Lakehead University accepts the following recognized tests as proof of English language proficiency. Alternatively, you can choose to complete Lakehead University's Academic English Program prior to your undergraduate studies.
CAEL: minimum score 60
Cambridge C1 Advanced or C2 Proficiency: minimum English score 176, no component score less than 169
IELTS: minimum score 6.5, no individual score less than 6.0
TOEFL iBT: minimum score 80, no component score less than 19
PTE Academic: minimum score 58, no component score less than 50
If you do not meet the English Language Proficiency scores, you will be automatically considered for admission through Lakehead University's Academic English Program (AEP). You will need to successfully complete AEP before proceeding into an academic program.