Profile

Program

Requirement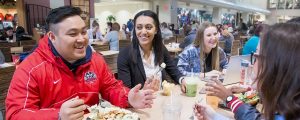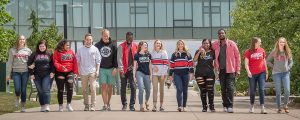 Brock University is one of Canada's top post-secondary institutions. Located in historic Niagara region, Brock offers all the benefits of a young and modern university in a safe, community-minded city with beautiful natural surroundings.
With 19,000 students in seven diverse Faculties, Brock University offers an academic experience that's second to none. Our degree programs are designed with your future in mind. We focus on your career with co-op and service learning options that provide maximum exposure to your chosen field of study.
Brock is more than a school — it's a community. There's a variety of clubs, intramural athletic options and extracurricular activities to stimulate any interest. Beyond your own participation, cheer on the Brock Badgers in a wide variety of sports.
Areas of Expertise
Brock University offers a wide selection of innovative and established programs, including:
Accounting, Business Administration, Child and Youth Studies, Computer Science, Concurrent Education, Dramatic & Visual Arts, Game Design & Programming, Medical Sciences, Nursing, Oenology and Viticulture, Political Science, Psychology, and Sport Management; to name a few.
In addition, students are encouraged to participate in hands-on learning environments including our top co-op program, experiential education opportunities, teaching placements, field placements, internships, Experience Plus and Med Plus programs, and research endeavours.
Accounting (B.B.A.) Bachelor; Co-op; Honours
Accounting (B.B.A.) Bachelor; Honours
Accounting (B.B.A.) Bachelor
Accounting (B.B.A.) Bachelor; Co-op
Art History and Theory Bachelor; Honours
Art History and Theory - Fine Arts Bachelor
Arts Administration Bachelor
BEAP (English Acculturation Program) Not Applicable
Biochemistry Bachelor; Honours
Biochemistry Bachelor
Biochemistry - Chemistry Bachelor
Biochemistry - Chemistry Bachelor; Honours
Biology (B.A.) - Health Science Bachelor
Biology (B.Sc.) - Biodiversity and Ecology Bachelor; Honours
Biology (B.Sc.) - Biodiversity and Ecology Bachelor
Biology (B.Sc.) - Health Science Bachelor; Honours
Biology (B.Sc.) - Health Science Bachelor
Biology and Secondary Education Bachelor
Business (B.A.) Bachelor
Chemistry Bachelor
Chemistry Bachelor; Honours
Chemistry and Secondary Education Bachelor
Classical Studies Bachelor
Classical Studies Bachelor; Honours
Computer Science Bachelor
Computer Science Bachelor; Honours
Computer Science Bachelor; Co-op; Honours
Computer Science Bachelor; Co-op
Drama Bachelor
Drama Bachelor; Honours
Drama and Secondary Education Bachelor
Economics Bachelor
Economics Bachelor; Honours
Economics: Business Economics Bachelor
Economics: Global Economy Bachelor
Economics: Public Policy Bachelor
Elementary Teacher Education Bachelor
English - Film and Media Studies Bachelor
English - Film and Media Studies Bachelor; Honours
English - Literature Bachelor
English - Literature Bachelor; Honours
English and Secondary Education Bachelor
English Second Language Teaching and Secondary Education Bachelor
Entrepreneurship (B.B.A.) Bachelor; Co-op
Entrepreneurship (B.B.A.) Bachelor; Co-op; Honours
Entrepreneurship (B.B.A.) Bachelor; Honours
Entrepreneurship (B.B.A.) Bachelor
Environmental Science Bachelor; Honours
Environmental Science Bachelor
Environmental Studies Bachelor; Honours
Environmental Studies Bachelor
Études Françaises et Québécoises Bachelor
Études Françaises et Québécoises Bachelor; Honours
Finance (B.B.A.) Bachelor; Co-op
Finance (B.B.A.) Bachelor; Honours
Finance (B.B.A.) Bachelor
Finance (B.B.A.) Bachelor; Co-op; Honours
Fine Arts Bachelor
Fine Arts Bachelor; Honours
Fine Arts and Secondary Education Bachelor
French Bachelor
French Bachelor; Honours
French and Secondary Education Bachelor
General Business Management (B.B.A.) Bachelor
General Business Management (B.B.A.) Bachelor; Co-op
General Business Management (B.B.A.) Bachelor; Honours
General Business Management (B.B.A.) Bachelor; Co-op; Honours
Geography Bachelor; Honours
Geography Bachelor
Global Management & Leadership (B.B.A.) Bachelor
History Bachelor
History Bachelor; Honours
Information Technology Bachelor
Information Technology (B.B.A.) Bachelor
International Business (B.B.A.) Bachelor
International Business (B.B.A.) Bachelor; Co-op
International Business (B.B.A.) Bachelor; Co-op; Honours
International Business (B.B.A.) Bachelor; Honours
International Political Economy Bachelor; Honours
International Political Economy Bachelor
International Studies Bachelor; Honours
International Studies Bachelor
Liberal Arts Bachelor
Marketing & Entrepreneurship (B.B.A.) Bachelor
Marketing & Entrepreneurship (B.B.A.) Bachelor; Co-op
Marketing & Entrepreneurship (B.B.A.) Bachelor; Honours
Marketing & Entrepreneurship (B.B.A.) Bachelor; Co-op; Honours
Mathematical Economics Bachelor; Honours
Mathematics (B.A.) Bachelor; Honours
Mathematics (B.A.) Bachelor
Mathematics (B.Sc.) Bachelor; Honours
Mathematics (B.Sc.) Bachelor
Mathematics and Secondary Education Bachelor
Mathematics and Spanish Bachelor
Modern Languages - German Studies Bachelor
Modern Languages - Hispanic Studies Bachelor
Modern Languages - Japanese Studies Bachelor
Music Bachelor
Music Bachelor; Honours
Music and Secondary Education Bachelor
Neuroscience (B.Sc.) Bachelor; Honours
Neuroscience (B.Sc.) Bachelor
Philosophy Bachelor
Philosophy Bachelor; Honours
Physics Bachelor
Physics Bachelor; Honours
Physics and Secondary Education Bachelor
Political Studies Bachelor; Honours
Political Studies Bachelor
Popular Music Studies (Jazz, Pop / Rock) Bachelor; Honours
Popular Music Studies (Jazz, Pop / Rock) Bachelor
Pre-Medicine Bachelor
Psychology (B.A.) Bachelor
Psychology (B.A.) Bachelor; Honours
Psychology (B.A.) (Applied) Bachelor; Honours
Psychology (B.A.) (Applied) Bachelor
Religion Bachelor
Religion Bachelor; Honours
Secondary Teacher Education Bachelor
Social Studies and Secondary Education Bachelor
Sociology Bachelor
Sociology Bachelor; Honours
Sports Studies Bachelor
Sports Studies - Athletic Development Bachelor
Sports Studies - Business and Society Bachelor
Sports Studies - Health Bachelor
Teaching English as a Second Language and Secondary Education Bachelor