Profile

Program

Requirement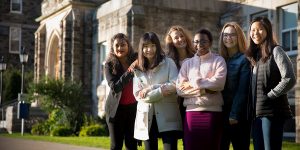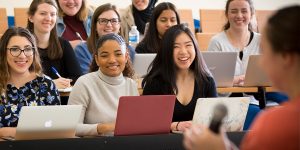 At Brescia University College, you will be challenged to actively engage in your education, both inside the walls of your classroom and extending beyond into the local and global community. You will be offered unparalleled opportunities to develop your leadership skills and your true, authentic leadership character. With over 100 years of educating women, Brescia commits to enabling you to reach your full potential as a student and future leader.
Brescia is Canada's women's university. Since our inception in 1919, we've been educating passionate, creative, intelligent women — like you — who want to lead boldly in a rapidly changing world.
So what does it mean to attend a women's-only university? It means you will:
Receive an education tailored to your interests and learning style
Become confident sharing your opinions, insights, and ideas in class
Be surrounded and mentored by women in leadership positions, including your Principal, Academic Dean and Students' Council Executives
Did you know that graduates from women's universities and colleges report they are "completely satisfied" with their overall education and are more likely to pursue graduate degrees versus graduates from co-ed institutions? Women's university and college graduates also report they felt greater support from their institution in preparation for their first job, as well as reported being better prepared for life after graduation than their co-ed counterparts (Source: Hardwick Day, 2012).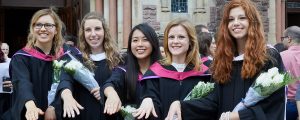 Areas of Expertise
Brescia University College offers three-year and four-year undergraduate degrees within four schools: School of Behavioural and Social Sciences, School of Food and Nutritional Sciences, School of Humanities and School of Leadership and Social Change. Each school offer a wide variety of unique programs including Foods and Nutrition, Community Development, Nonprofit Management and Management and Organizational Studies. Additionally, Brescia offers a Masters degree and a Diploma in Foods & Nutritional Sciences.
Accounting Bachelor
Community Development Bachelor
Community Development in a Global Context Bachelor; Honours
Consumer Behavior Bachelor
Criminal Justice Bachelor
English Language and Literature Bachelor
English Language and Literature Bachelor; Honours
Families and Communities Bachelor; Honours
Family Studies and Human Development B.A. Bachelor
Family Studies B.A. Bachelor; Honours
Family Studies B.Sc. Bachelor; Honours
Family Studies B.Sc. Bachelor
Food Management and Marketing Bachelor; Honours
Food Management and Marketing Bachelor
Foods and Nutrition Bachelor
French Studies Bachelor
Health Sciences Bachelor
History Bachelor; Honours
History Bachelor
Kinesiology Bachelor
Nonprofit Management Bachelor; Honours
Nutrition and Dietetics Bachelor; Honours
Nutrition and Dietetics/HBA Combined Degree Program Bachelor; Honours
Nutrition and Families Bachelor
Nutrition and Families Bachelor; Honours
Philosophy Bachelor
Political Science Bachelor
Psychology Bachelor
Psychology Bachelor; Honours
Religious Studies Bachelor
Scholar's Electives Not Applicable
Sociology Bachelor; Honours
Sociology Bachelor
Spirituality and Community Leadership Bachelor
Requirements
Students within the Ontario High School system must have an Ontario Secondary School Diploma. All programs require a minimum of six OAC or Grade 12U or M courses. Some programs include specific OAC or Grade 12 U courses for entry. Students admitted to Brescia must be proficient in written and spoken English. Applicants for whom English is not their first language and who have not lived or studied in an English environment for a period of at least four years will be required to write an English test.
Requirements for International Students
Please view 'Requirements for Canadian Students.'
Procedure for Canadian Students
Applications to Brescia University College are accepted year-round. In some cases students may be able to begin study on a part-time basis in the summer.
Students who are currently studying in a Canadian province outside of Ontario should follow the same procedure with a 105D Application Form. Students outside of Canada should use the 105F
Ontario Universities Application Centre
170 Research Lane
Guelph, ON N1G 5E2
Procedure for International Students
Students applying from outside of Canada should use the Ontario Universities' Application Centre (OUAC) 105F application form, which can be obtained from 
Ontario Universities Application Centre
170 Research Lane
Guelph, ON N1G 5E2
Canada
Alternatively, students may submit an international application form directly to Brescia University College.