Profile

Program

Requirement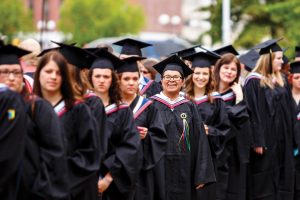 At Algoma U, we live boldly and with intention, celebrating the values, personalities, and convictions that make each of us unique. Our professors are accessible and future-focused, with a view to preparing students for real-world challenges as global citizens. With curriculum that spans across the humanities, social sciences and sciences, we offer hands-on learning in state-of-the-art facilities, rare undergrad research opportunities, and the chance to learn from industry experts through internships and community-based projects. And with the most diverse student body in Ontario, situated in the heart of the Great Lakes, we have a vibrant student community that enjoys the outdoors, clubs, social and cultural events, as well as intramural and varsity sports – go, Thunderbirds!
Areas of Expertise
Algoma University places a great deal of emphasis on personal interaction between students and faculty members through small classes and frequent use of seminars, labs, and tutorials. Algoma U ensures personal attention by offering one of the lowest student/faculty ratios among Ontario universities.
With no class bigger than 75 students, our students excel in our ideal learning environment. Students can study in this environment in courses including Biology, Business Administration, Community Economic and Social Development, Computer Science, English, Environmental Science, Engineering (1st Year), Geography, History, Law and Justice, Music, Political Science, Psychology, Sociology, Social Work, Visual Arts and many more!
Computer Science (BCOSC) Bachelor
Economics Bachelor
Engineering (First Year) Bachelor
English Bachelor
Environmental Science Bachelor; Honours
Finance and Economics Bachelor
Geography Bachelor
History Bachelor
History Bachelor; Honours
Law and Justice Bachelor
Music Bachelor
Political Science Bachelor
Psychology - Arts (Four Year) Bachelor
Psychology - Arts (Three Year) Bachelor
Psychology - Science (Four Year) Bachelor
Psychology - Science (Three Year) Bachelor
Social Work Bachelor; Honours
Sociology Bachelor
Visual Arts Bachelor
Requirements for Canadian Students
Ontario Students:
Ontario Secondary School Diploma (OSSD) with six Grade 12 U or M courses at the end of the current school year with an overall average of 65% and 70% for Biology, Business, Engineering and Social Work. Please refer to specific program requirements.
Quebec Students:
Completion of Year 1 of a CEGEP program or equivalent.
Other Canadian Students:
Grade 12 Diploma.
Requirements for International Students
International applications are individually assessed on country-specific criteria. Normally, applicants must meet the requirements for admission to a university in their home country. If you have completed university courses, transfer credit (if applicable) will be determined by the admissions office upon receipt of official transcripts. In general, we are looking for 5-6 traditional academic courses in the final year of senior secondary including English. Other course requirements will apply for certain programs.
Please refer to the Web site admission requirements.
Proof of English language proficiency is required to attend Algoma U or successful completion of , with a 70% or higher.
Procedure for Canadian Students
To enroll full-time in Algoma University for September admission, you must apply via the Ontario Universities' Application Centre (OUAC). application 101 if you are currently enrolled in an Ontario high school, otherwise, use application 105.
All January, May, and part-time applicants must apply directly to Algoma U.
Complete the Algoma University application.
 Send official transcripts (high school, college, and university if applicable).
 Send non-refundable $50.00 (Canadian funds) application fee payable to Algoma University.
Submit all above documents and non-refundable application fee to:
Admissions - Algoma University
1520 Queen Street East
Sault Ste. Marie, Ontario, Canada
P6A 2G4
Procedure for International Students
For our general admission requirements for international students, as well as specific admission requirements by country,