Profile

Program

Requirement
Since 1926, Alberta University of the Arts, AUArts (formerly ACAD) has inspired thousands of students to pursue their dreams.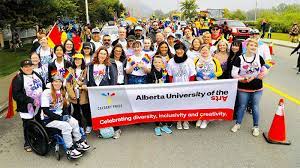 As Alberta's only dedicated art, craft and design university, we're proud to play an important role in nurturing creativity and driving innovation in our province and around the world. From our academic programs to grass-roots community partnerships, there's a lot going on at AUArts – we hope you'll join us.
Our degree programs are studio-based, which means hands-on. In our studios you'll explore multiple media, applying new techniques and immersing yourself in the practice and culture of art and design. You'll have access to a wide range of unique opportunities, including a strong international exchange program and a robust scholarship and awards offering for incoming students. Most importantly, with a 1:15 faculty-to-student ratio, our average studio class is kept to 15 students so you'll receive individual, personal attention from a faculty made up of a diverse group of over 130 professional practicing artists, designers and scholars.
The university is located on Calgary's North Hill, overlooking the Bow River and the downtown skyline, in a building designed in 1973 specifically as an art college. The central mall is a thoroughfare, meeting place, and exhibition space for artwork. The college is the home for two galleries, the public Illingworth Kerr Gallery and the student-run Marion Nicoll Gallery. It also has an outstanding collection in the Luke Lindoe Library of books, slides, and periodicals on contemporary and historical art. Other on-site facilities include an art supply/bookstore and a cafeteria.
A connecting Light Rapid Transit station offers AUArts students easy, inexpensive access to the wide world of Calgary, including museums, galleries, theatres, the zoo, public libraries, and the University of Calgary. AUArts students may participate in a variety of public service projects and practicum placements throughout the city. In addition, the College offers a student exchange program, which permits students to pursue a year of study at other institutions in Canada, North America, Europe, Asia, and Australia.
Want to know more? Visit auarts.ca for more info, or book a tour to come see it for yourself at 403.284.7617, myfuture@auarts.ca. Don't miss any of the important deadlines, start your application process online today!
Areas of Expertise
AUArts faculty members are highly motivated, practicing professional artists and designers who bring commitment, enthusiasm, and a wealth of practical experience to the classrooms and studios. They emphasize studio instruction with a focus on individual growth and development through hands-on experience with a wide range of techniques and approaches. Students learn how to look at art and how to critique each other's work. Studios are spacious and the classes are small. The university's student/space and student/faculty ratios are among the best in the country.
The curriculum encompasses a wide range of majors in visual arts and design. Bachelor of Fine Arts (BFA) majors are offered in the following studio disciplines: Ceramics, Drawing, Fibre, Glass, Jewellery & Metals, Media Arts, Painting, Printmaking, and Sculpture. A Bachelor of Design (BDes) is offered in Photography and Visual Communications Design with streams in Graphic Design, Advertising, Illustration and Character Design. All students must complete First Year Studies before moving into an area of concentration. First Year Studies provides students with a variety of studio experiences, contemporary theory and practice, art history, and liberal studies to ensure that students gain broad exposure and a well-rounded education.
Ceramics Bachelor
Critical + Creative Studies Bachelor
Drawing Bachelor
Fibre Bachelor
First Year Studies Bachelor
Glass (BFA) Bachelor
Jewellery + Metals Bachelor
Media Arts Bachelor
Painting Bachelor
Photography Bachelor
Print Media Bachelor
Sculpture Bachelor
Visual Communications Design Bachelor
Future Students Current Students Alumni Degrees and Programs Continuing Education About AUArts Faculty and Staff Support AUArts Top Menu You are here HomeFuture StudentsHow to applyAcademic requirements Academic requirements AUArts typically accepts students to begin First Year Studies on an annual basis in September. January admission is atypical and may impact program progression. For more details on January admission please contact the Recruitment and Admissions Office at admissions@auarts.ca. Applications will be reviewed as of the October 1 opening date. Applicants may be awarded full admission, conditional admission, waitlist, or decline. All offers of admission are contingent upon the successful completion of Grade 12 (or equivalent) and/or English language proficiency requirements. Final official transcripts are due no later than August 1 to complete the application file. Applicants must possess a high school diploma, have achieved a grade of at least 60% in four grade 12 subjects, including a grade of 60% or higher your school's highest-level English class (or equivalent), and meet English language proficiency requirements. There are also specific artistic portfolio requirements for all applicants. Please visit auarts.ca for more information about admissions and artistic portfolio requirements.
Requirements for International Students
International applicants are evaluated on the basis of equivalency of an Alberta high school diploma and a minimum of 60% in the final year of study. All final transcripts must be forwarded directly from applicants' educational institution to AU Arts Admissions Office by August 1. All transcripts issued in a language other than English must be accompanied by notarized English translations.English Language Proficiency
Portfolio of visual artwork – 12 pieces
Statement of Intent – up to 500 words
Procedure for Canadian Students
Application form submission online at ApplyAlberta.ca requires a non-refundable $110 fee, in-progress transcripts and English language proficiency documents (if required)
Priority Application deadline: February 1
General Application deadline: July 1 (while seats are available)
Priority Application Portfolio due: February 1
Official transcripts and English language proficiency documents (if required) due: August 1
Procedure for International Students
The application process for International Students is the same for Domestic Students.