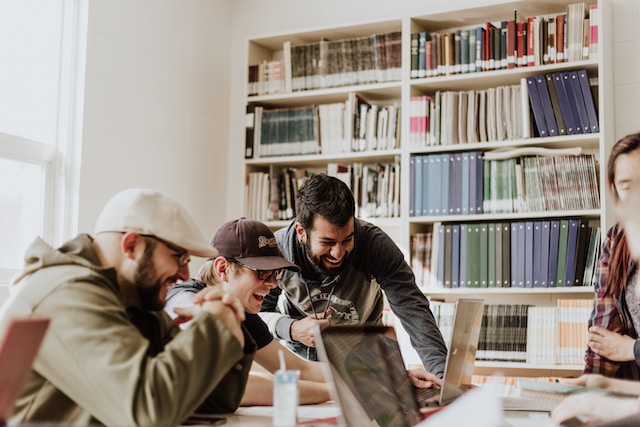 The Master of Business Administration (MBA) is an internationally recognized degree designed to prepare students for future jobs. It focuses on developing both industry-specific knowledge as well as high in-demand soft skills like leadership, empathy and interpersonal skills.
An MBA degree can propel a professional career across industries and functional departments. There are over 2000 MBA programs offered globally with multiple options to specialise in, like Finance Leadership, International Management, Consulting, Technology Management, Entrepreneurship and more. The core curriculum includes subjects like accounting, operations, marketing, and economics.
Eligibility Criteria for MBA Program in the USA:
MBA aspirants may have questions like what exams do I have to take for studying MBA in USA?
Primarily there are two entrance exams to qualify for studying MBA in the USA:
GMAT Exam – Graduate Management Admission Test
IELTS Exam – International English Language Testing System / TOEFL Exam – Test of English as a Foreign Language
Graduate Management Admission Test is a preferred entrance test for admissions in most business and management programs. It consists of GMAT Analytical Writing Assessment, GMAT Integrated Reasoning, GMAT Quantitative Reasoning, and GMAT Verbal Reasoning. GRE General is another option that can appear although not widely accepted. The universities do have an equivalency of GRE exam to GMAT exam which sometimes decreases the chances of an admit.
Both TOEFL and IELTS have 4 modules which are reading, listening, speaking and writing. The minimum score requirements are 6.5 overall, 80+. However, for top universities, TOEFL required is more than 100 and 7.5 overall for IELTS.
Apart from these entrance exam scores, to apply for an MBA student also requires academic transcripts, letters of reference, and an essay or statement of purpose stating why you want to pursue an MBA degree have to be submitted.
Know more about the Entry Requirements for USA Universities.
Intake & Application Deadlines
US universities have three intakes throughout the year- Fall, Spring, and Summer. However, Fall and Spring are considered to be major ones as very few colleges offer summer intakes.
Fall semester starts in September and ends in December
Spring semester starts in January and ends in May
The summer semester starts in June and ends in August
The deadlines for each intake are usually a few months before the start date hence, it is recommended to apply early. The ideal time to begin applications is 9-12 months prior to the intake. Universities generally take about 8-10 weeks to process the applications.
MBA Course Duration in USA
A traditional full-time MBA program will typically last two years (24 months). This is the most sought-after program as it offers immersive tracks to study and focuses heavily on giving students maximum real-world experience. There are institutions in the USA that offer accelerated MBA programs that last one year (12 months) or a year and a half (18 months).
Apart from these, there are part-time and Executive MBA (EMBA) programs available for students to enrol in. Both these programs are generally taken by working professionals, who attend the program while maintaining a full-time job.
Know more about the Upcoming Intakes to Study in USA.
Tuition Fees
The tuition fee in the Unites States will primarily vary on the type of college and course one is enrolled in, study duration and college location. On an average fee range for :
Undergraduate degree is $20,000 to $30,000 per year
Postgraduate degree is $25,000 to $35,000 per year
MBA course is $50,000- $75,000 per year
Doctoral degree/ PhDis$28,000 to $55,000 per year
There are scholarship options available for international students on merit basis in many US B-schools.
Know more about the Cost of Studying in the USA.
Quick Facts to Know
High GMAT alone are not enough
Demonstrated leadership and networking skills gained through extracurricular activities or volunteer work can prove to be valuable while applying for an MBA course in the USA. Eliciting proof of being an impactful self-starter with high-performance standards, can help students push their case forward effectively with the admission panel.
Common MBA application mistakes
Not being realistic- Aspirants should target for B-school that match their academic and professional achievements. Being unrealistic about getting into high ranked institutes alone will prove to be an opportunity lost. It is therefore important to know all the options and other viable alternatives to achieve one's academic and career goals.
Writing generic essays- The essay section in the application is meant to give you an opportunity to demonstrate your strengths. The application will show lack of effort and lose a chance to grab the attention of the admission panel if it only contains general information or displays exaggeration.
Not proofreading- This is the most common mistake made by applicants. Sharing the application without proofreading. An application with spelling and grammar mistakes will most likely lead to rejection.
Types of MBA
It is important to know what type of MBA course one should take. There are many MBA courses available to suit the varied requirements of aspiring students.
The main categories are:
General MBA-Meant for students who want to make a good corporate start by fast-tracking their career into a management role. The course is offered in both traditional full time two years course as well as fast track one year course.
Executive (EMBA)–Typically taken by professionals who have considerable work experience and want to advance their career further or prepare themselves for the challenges of C-level jobs.
Specialist MBA–Suitable for professionals with some managerial experience and are looking to gain promotion in a particular field.
Distance learning MBA –Appropriate for those who cannot attend a full-time course or are looking for more cost-effective alternatives
Job Experience is not a mandatory requirement for pursuing MBA in the USA
However, high ranking universities and colleges would prefer applicants with work experience as it helps the admission panel understand the profile of an applicant better in terms of their understanding of the business and corporate world.
Why Choose USA for MBA?
Before deciding on pursuing an MBA degree, one must know what are the advantages of studying MBA in USA?
High Ranking Institutes
According to World University Rankings 2023 by Times Higher Education, among the top 10 B-schools in the world, 7 are from USA. These B-schools provide the best of faculties, research and internship opportunities to its students.
Wide Range of courses
With over 4,000 accredited colleges and universities, there are many learning options for students to choose from. From languages, linguistics, literature to biological sciences, law, historical and philosophical studies to physical sciences, creative arts and design any subject can be studied in-depth.
Excellent career and job opportunities
Most universities and educational institutions in the USA have strong networks and tie-ups with leading companies to take top-performing students as their employees. Most full time two year MBA courses offer internships in a reputed organization that may lead to full-time employment for students.
Return on Investment
The Graduate Management Admission Council (GMAC) 2019 Corporate Recruiters Survey showed that 76% of organizations plan to hire more MBA graduates in the future, while the average starting salary is at its highest ever for US graduates at $115,000 per annum.
Diverse Culture
College campuses in the US have a rich ethnic diversity. The multi-cultural environment helps students learn the value of diversity, racial, gender equality and acquire skills to foster cross-ethnic relationships which is a must today, with the global economy being the norm.